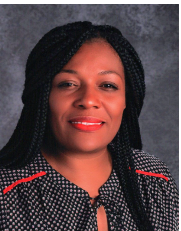 Dear Fitzgerald community:
I am humbled and thrilled to join the Fitzgerald family as your new Assistant Principal!
I am a compassionate and motivated English Language Learner from Sierra Leone, and I bring with me a diverse skill set with a global perspective.
I started my postsecondary education in Freetown Sierra Leone, where I earned a Higher Teachers Certificate at the Milton Margai College of Education. Upon migrating to the United States in August 1999 due to a civil war in my home country Sierra Leone. I attended The Northern Virginia Community College in Alexandria, Virginia, and graduated with Associate of Applied Science in Early Childhood Education. To pursue my love for teaching and learning, I transferred to George Mason University where I earned my undergraduate degree in Early Childhood Education Administration, a Master of Education in Early Childhood Special Education, and a Master of Education in Education Leadership.
Prior to working with Prince William County Public Schools as an Early Childhood Special Educator, I worked with Fairfax County Office for Children for almost eleven years in different capacities. Until my recent calling to join all stakeholders in "Lighting the way to the future" at Fitzgerald, Leesylvania Elementary School has been my home for several years. Although I will miss Leesylvania school community tremendously, I look forward to embracing my new family and "Together, we will do great things" (George Wright - Principal, Fitzgerald Elementary School).
My philosophy is that of a student-centered approach. I firmly believe that all children can learn, and given equal access and opportunities, all students will gain required knowledge and skills. In addition to making a positive impact on student academic progress, I look forward to serving the Fitzgerald community by creating a safe, collaborative and inclusive learning environment through a child-centered social-emotional development, Professional Learning Communities, effective communication, and parental engagement, while building relationships with all stakeholders.
Sallay Banya
Assistant Principal
Fitzgerald Elementary School